All are welcome to come along and support Keep Kilkenny Beautiful's celebration of Earth Day! McDonnagh Junction, Kilkenny 
There will be a range of  interesting presentations, the launch of the Kilkenny Climate Hero's Challenge, entertainment for kids, colouring, Mr Picker Pal (ask the young people, they know who he is) and free giveaways of books, bulbs and keep cups.
Young ecologists who impress might be lucky enough to get a converted magnifying glass for hunting mini beasts! All welcome to come and celebrate.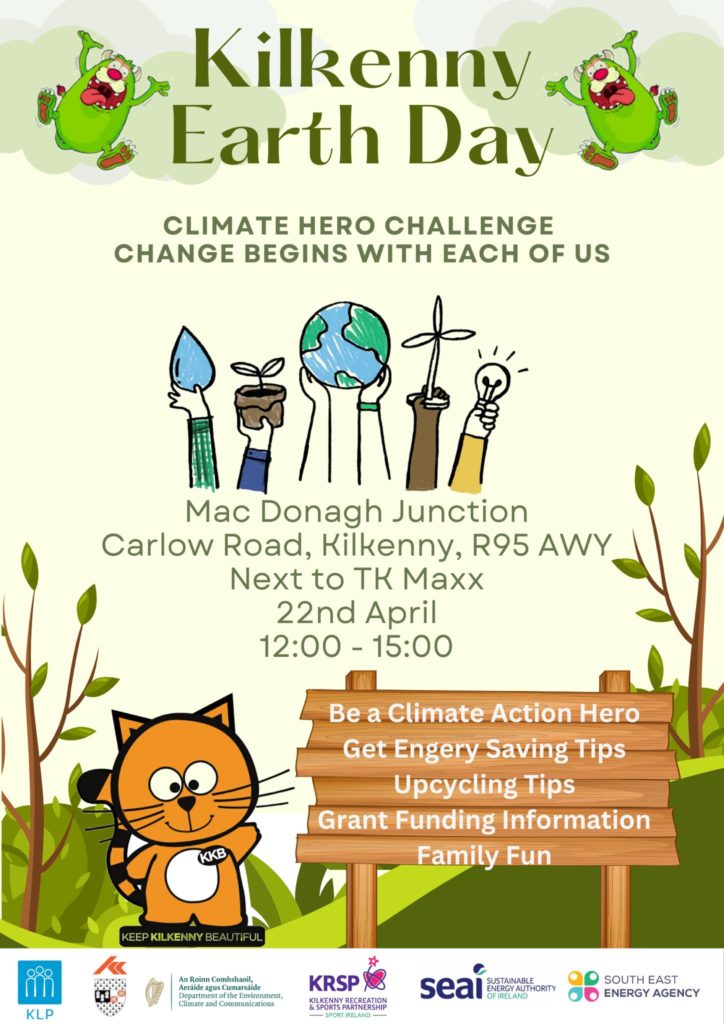 Speakers schedule for Earth Day
12:00    TD Malcom Noonan:-  launch of Kilkenny Climate Hero Challenge
12:10    Nicky Brennan:- Kilkenny Age Friendly Tips from the older generation
12:20    Cllr David FitzGerald Mayor of Kilkenny City:-                                                      The Path to being first Carbon Neutral City
12:30    Break
12:40    Patrick Jackson – Picker Pals
12:50    Paddy Phelan South East Energy Agency Grants & Supports Economy
13:00    John Carley South East Energy Agency Circular
13:10  Liam O'Brien Bagenalstown SEC Journey to Energy Master Plan
13:20    Seamus Nugent Kilkenny Sport Partnership Environment & Mental Health
13:30    Fergus Horgan KLP Food Waste to Compost
13:40    Break
13:50    Pat Boyd Keep Kilkenny Beautiful Special Project Officer –  Bio Bliz
14:00   Catriona Corr Sustainable Urban Mobility Plan
14:10    Marina DeCosta Sustainable Energy Communities SEC
14:20    Break
14:30    Maria Dollard Chairperson Keep Kilkenny Beautiful – Tidy Towns and SEC's – complementary synergy towards SDG's
14:40   Break
14:50    Mijke Jansen Barrow Valley Hub SEC Solar Panel EV Charger KLP LEADER Project
15:00    Breda Maher KCC Climate Action F